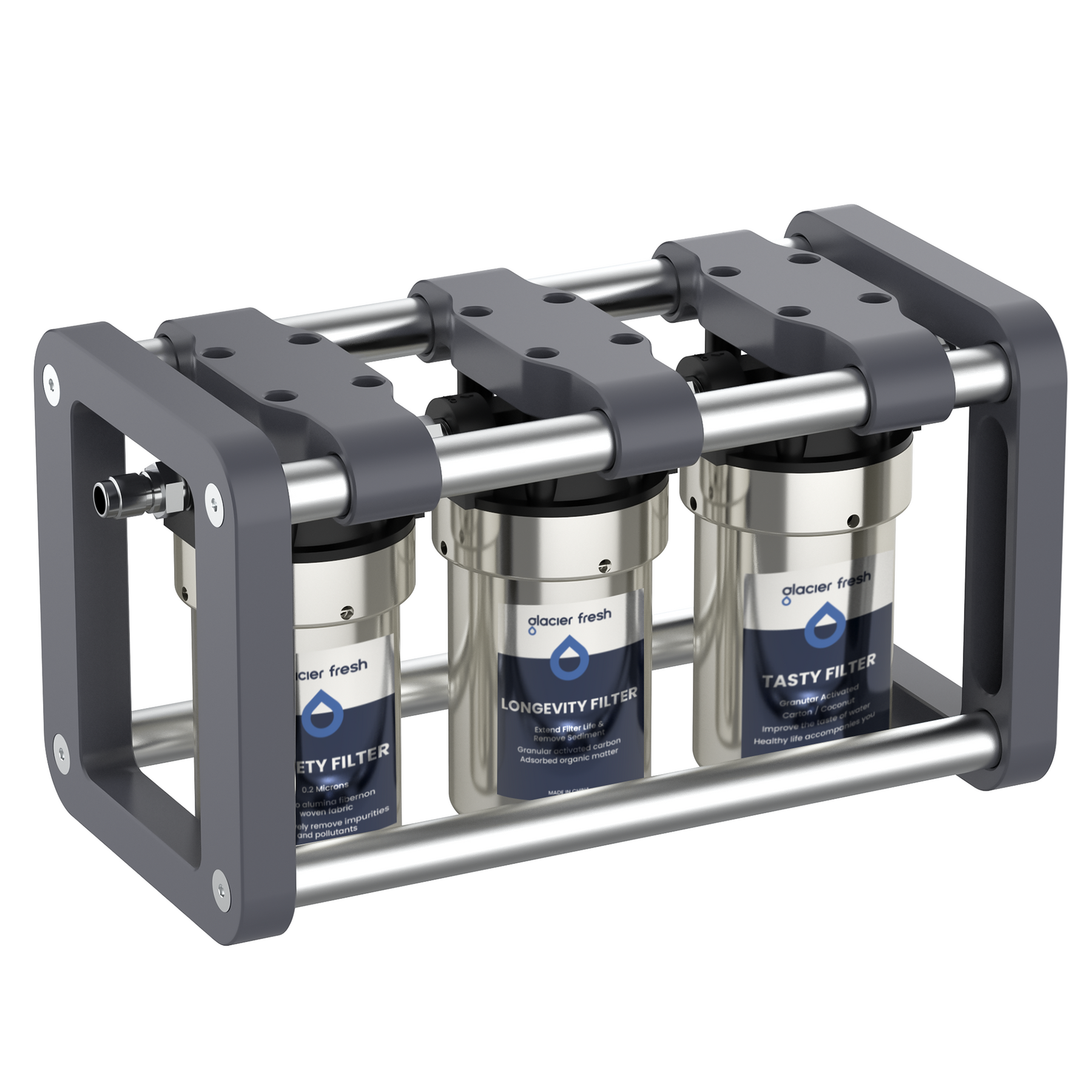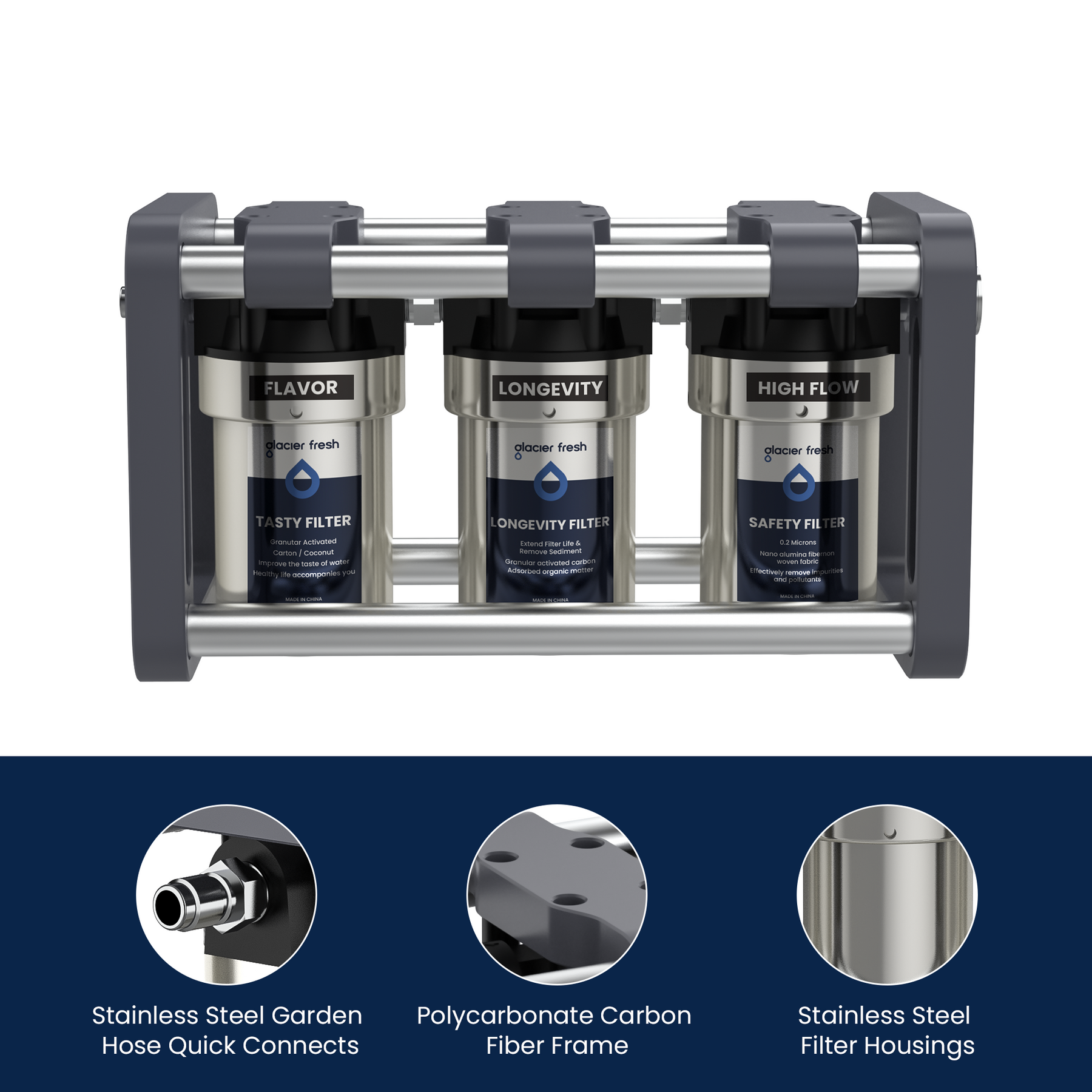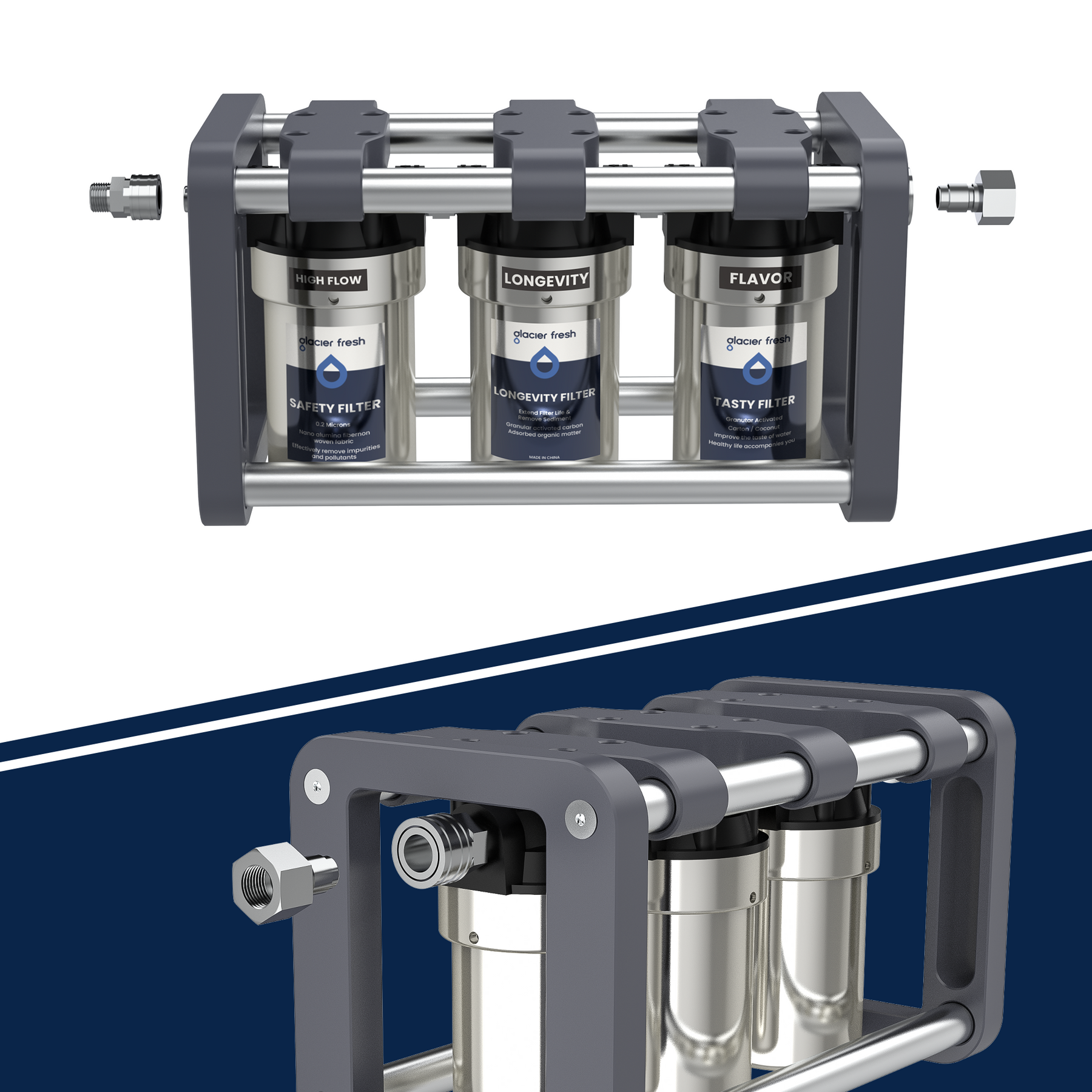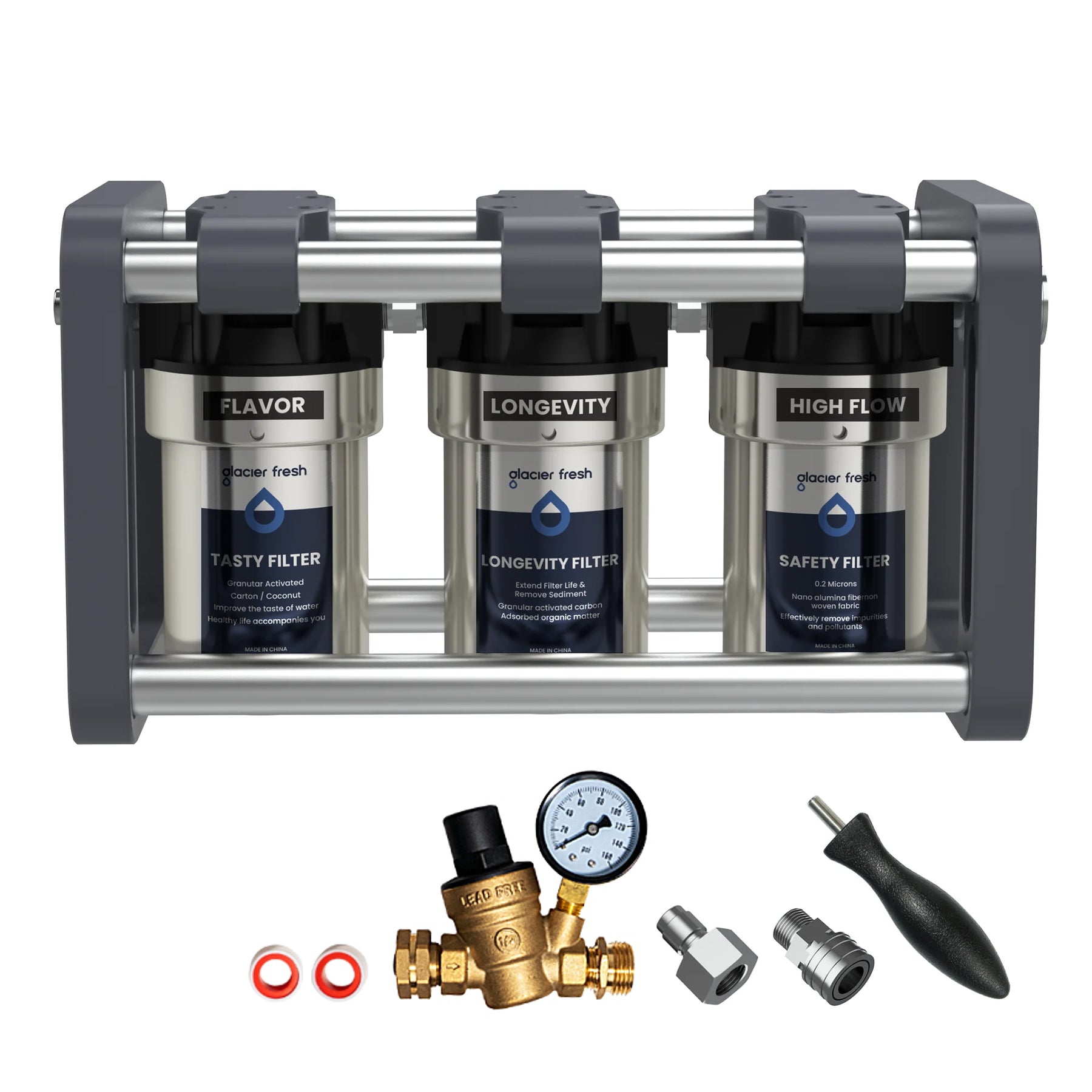 RV Water Filter System, 3 Stage Premium RV Water Filtration System, for RVs, Campers Made by Glacier Fresh
You will get 10% off automatically at checkout, Perfect for RV campers, travel trailers, camper vans, and boating enthusiasts, it offers the convenience of clean water wherever you go.
• Glacier Fresh RV001 RV Water Filtration System
• Compact 5-inch Filters Make it the Most Space-Efficient System on the Market.
• The polycarbonate carbon fiber frame ensures robustness and weighs only 10 lbs
• Enjoy clean water at all times with the excellent three-stage filtration system
• Equipped with pressure relief regulator and portable rope. Easy to move(other store not have it)
• Support 4 interest-free installments
• Trustpilot partner seller, 4.6 star rating
• 30 days free return or exchange if exist product damage issues.
We no longer have to worry about water quality outdoors and enjoy the peace of mind that comes with the Glacier Fresh RV water filtration system.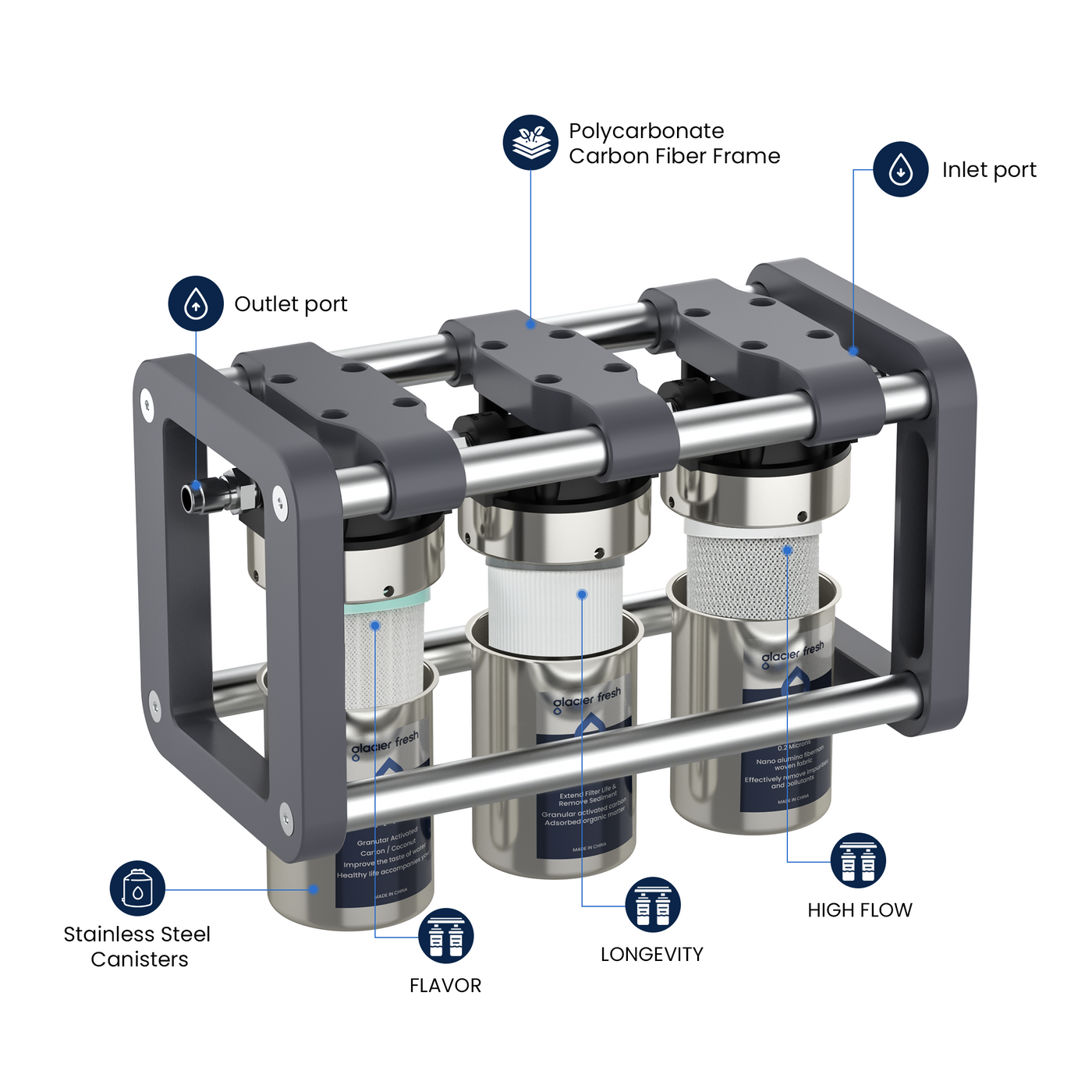 Durable and Lightweight
Crafted with a polycarbonate Carbon Fiber frame, this system is lightweight, highly durable, and UV resistant. It's built to withstand the harshest elements, ensuring long-lasting performance.
The corrosion-resistant stainless steel canisters enhance the system's durability, making it a reliable companion for RV adventures.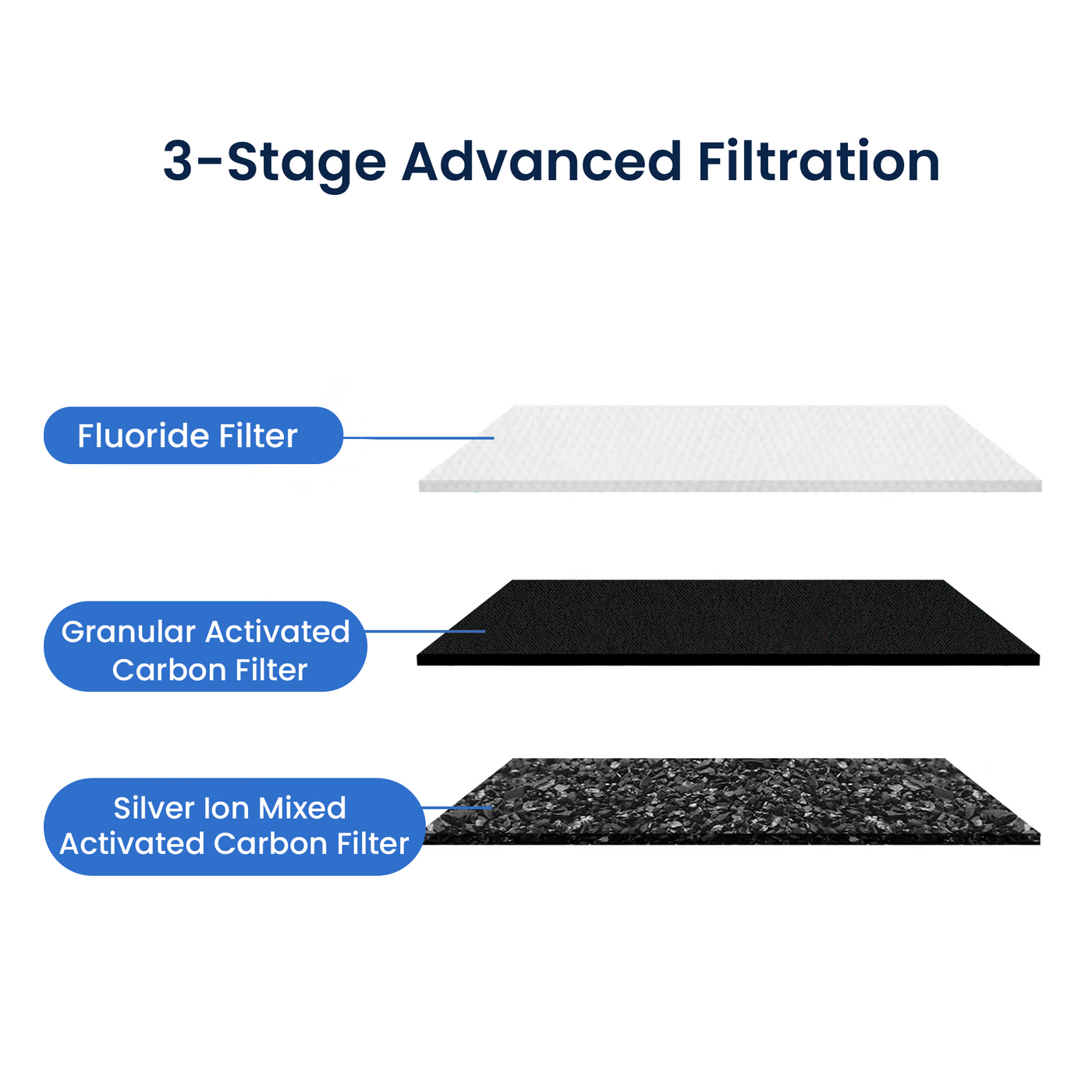 3-Stage Filtration
Fluoride Filter
Made from activated alumina, the fluoride filter easily reduces fluoride levels from 10 ppm to less than 1 ppm for up to 95% removal.

Granular Activated Carbon Filter
Activated carbon filters can remove chlorine, pesticides, herbicides, VOCs, disinfection byproducts, heavy metals such as lead, and other organic chemicals in water, and can reduce 60 to 80 pollutants and impurities.

Silver Ion Mixed Activated Carbon Filter
Combination of silver ions and activated carbon. Silver ions are very effective at reducing common bacteria in water, as it is bacteriostatic and can hinder the growth of bacteria and algae.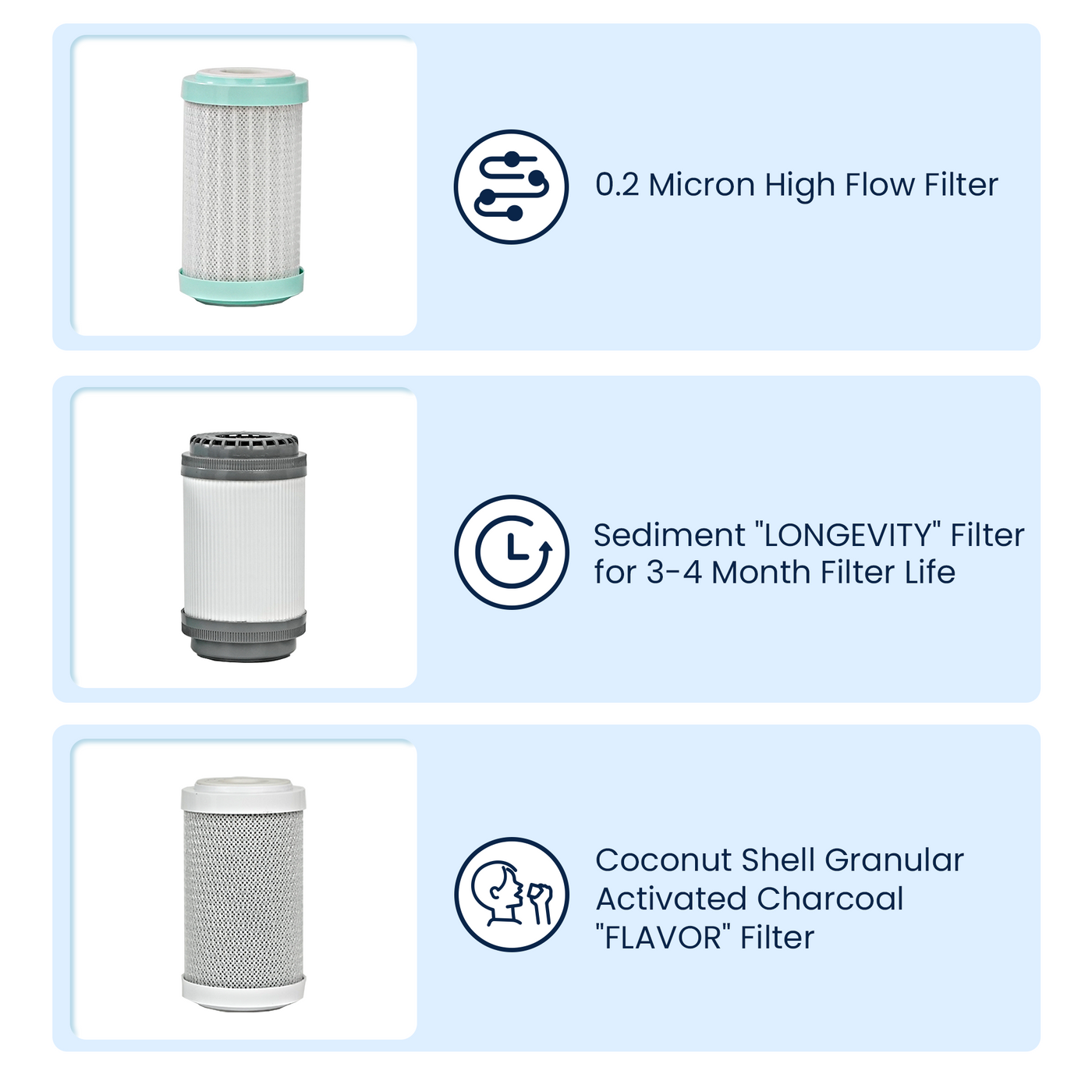 Excellent Filtration Performance
The ultimate solution for clean and pure water on your RV and campground adventures. Our 3-stage water filtration system is designed to exceed your expectations.
It features the revolutionary 0.2 Micron High Flow Filter*, the Granular Activated Carbon Coconut Shell "TASTY" Filter, and the Sediment "LONGEVITY" Filter.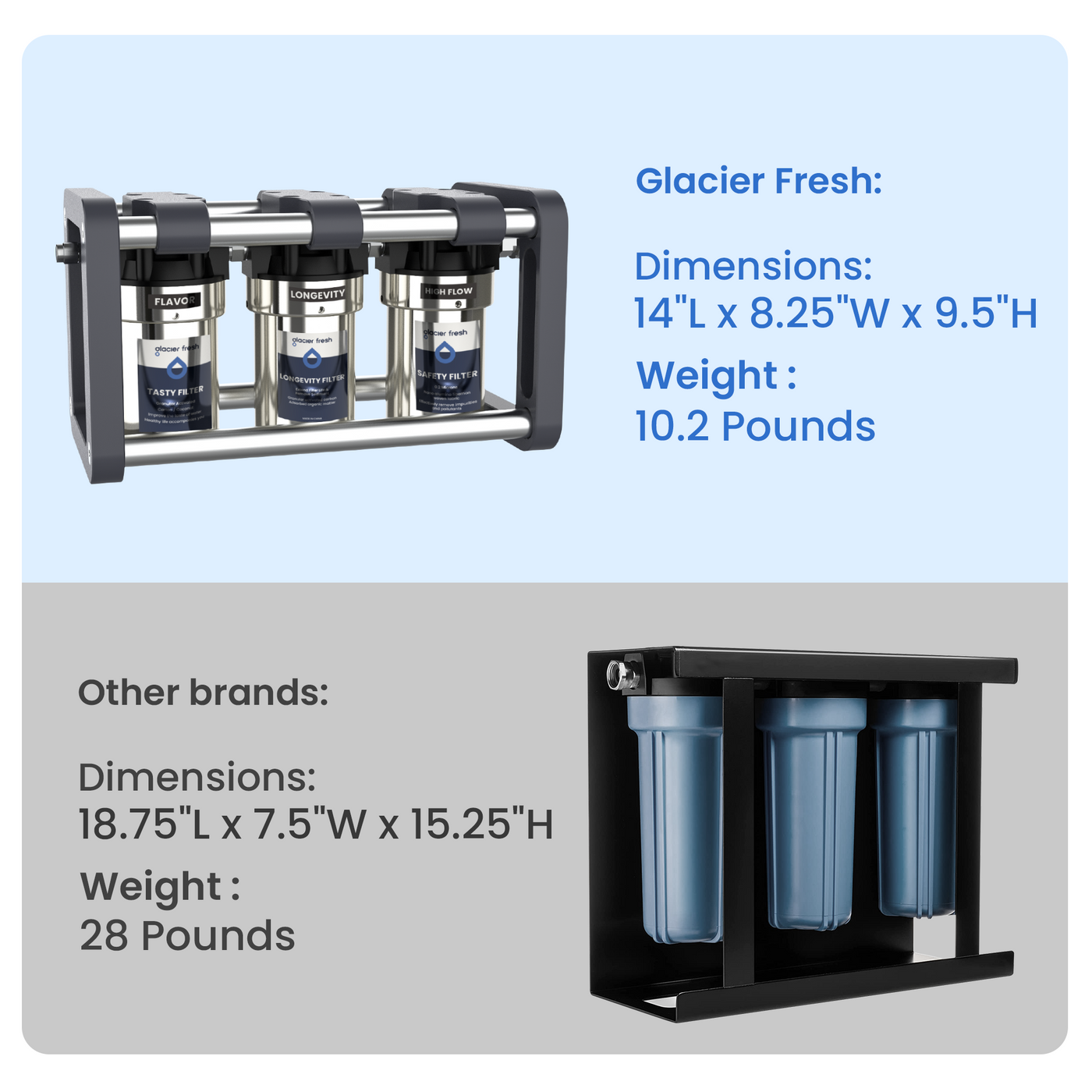 Compact and lightweight
Unlike conventional systems with bulky 10-inch filters, our 5-inch filters allow them to be significantly smaller without compromising on filtration efficiency, maximizing space utilization.

And weighing just over 10 lbs, our is incredibly lightweight compared to similar 3-Stage filtration systems available in the market, which can weigh up to 28 lbs.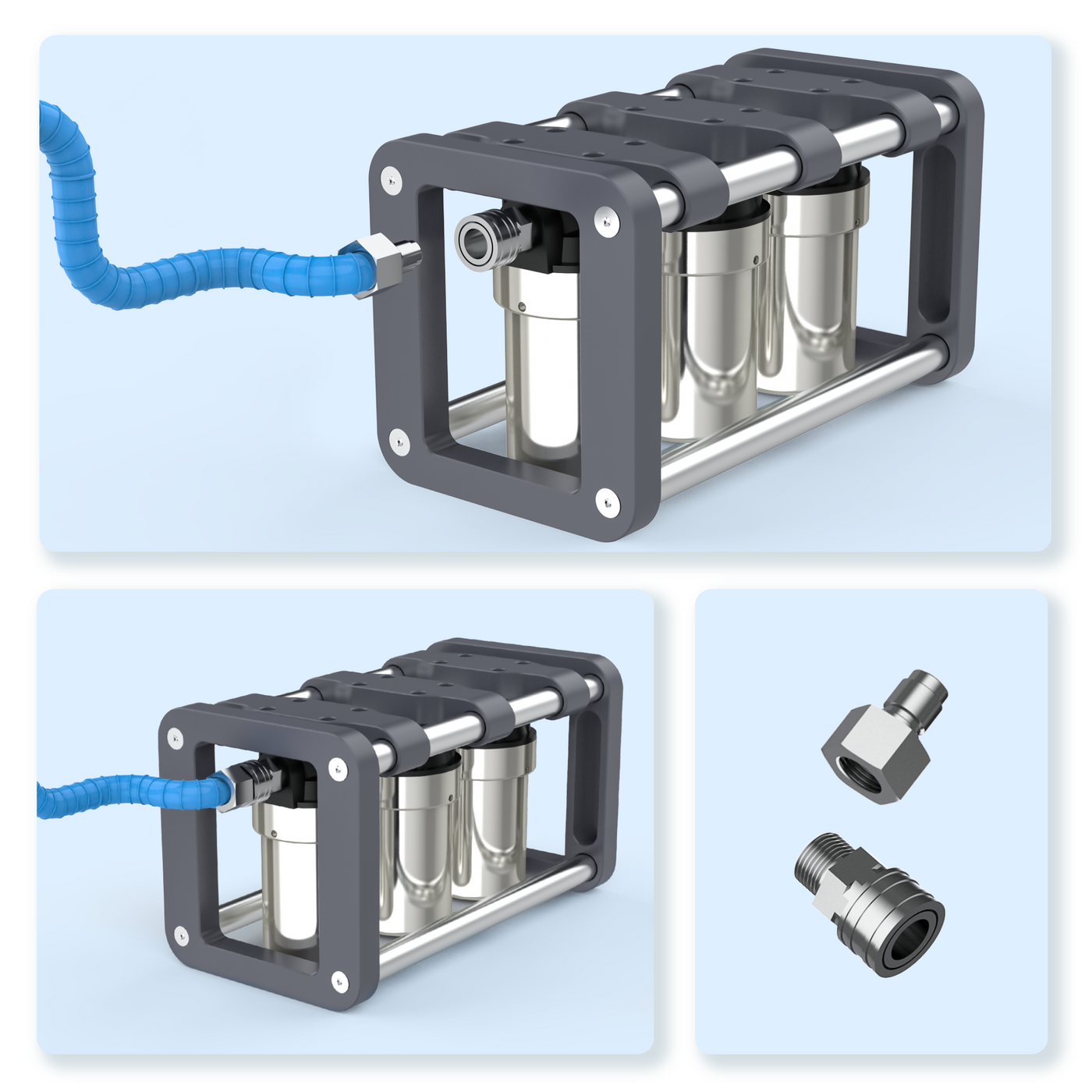 Designed Specifically for RVs
Our system is equipped with stainless steel Garden Hose Quick Connects, making water connections effortless and hassle-free.

Whether you're threading into city water or well water at any campground, experience a seamless connection without significant pressure drop.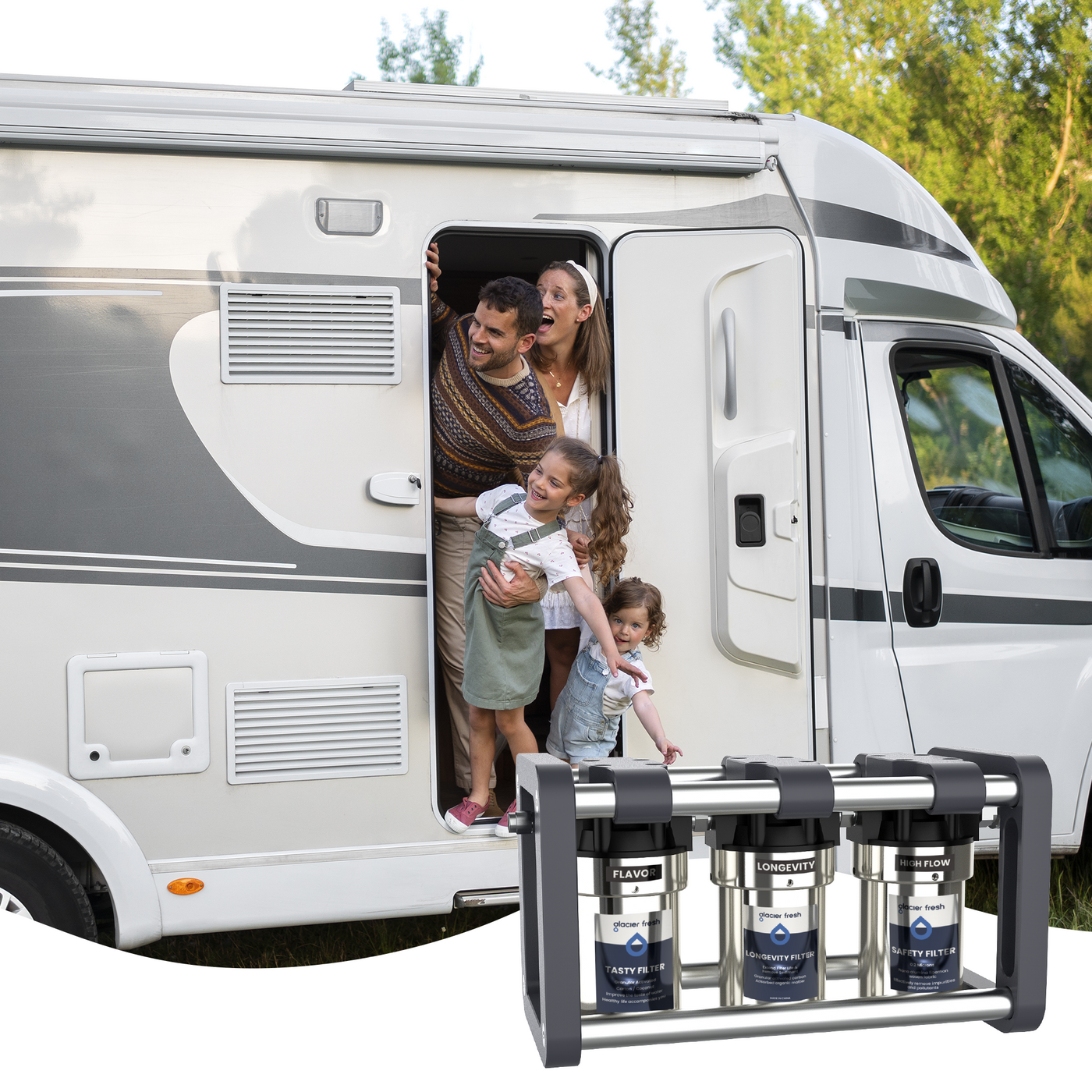 Mobile Water Filtration System
Wherever your RV adventures take you, the Glacier Fresh RV Water Filtration System ensures you have access to clean, great-tasting water. Whether you're exploring in a camper, travel trailer, camper van, or even on a boat, our system provides you with peace of mind. Ensures 3-4 months of cleaner source water, keeping you hydrated on the go.
Step 1
Connect the equipped stainless steel quick coupling hose to the water inlet and lock it
Step 2
Connect the water pipe to the outlet and lock it
Step 3
Turn on the tap and clean, filtered water comes out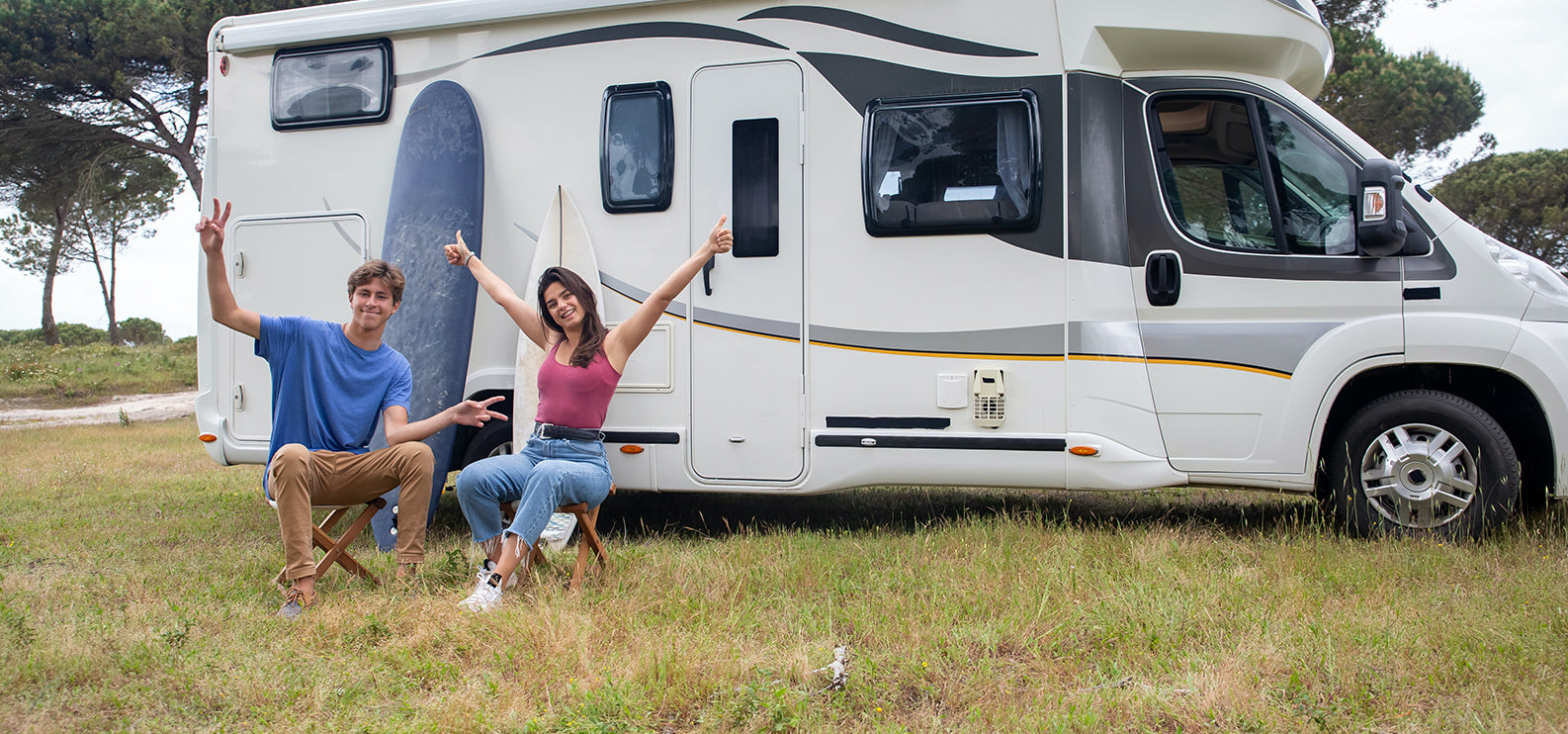 ★★★★★
This RV water filtration system from Glacier Fresh is the absolute best I've owned. We have been RV'ing now for three years and have tried many different brands and models of water filters. Absolutely love how quick and easy it is to setup and break down along with the best quality of water for our coach.